We are custom pool builder and who give you our customer that individual attention from the design and sales process through construction all the way to pool school. We have 3 Owners with professional backgrounds who are very involved in every aspect of your pool and backyard project.
Westbank Pools has been in Central Texas over 10 years, and we are well capitalized and will be around for years to come. We build pools for a select group of high-end custom home builders who have very high and exacting standards which we employ the construction of your pool and spa as well.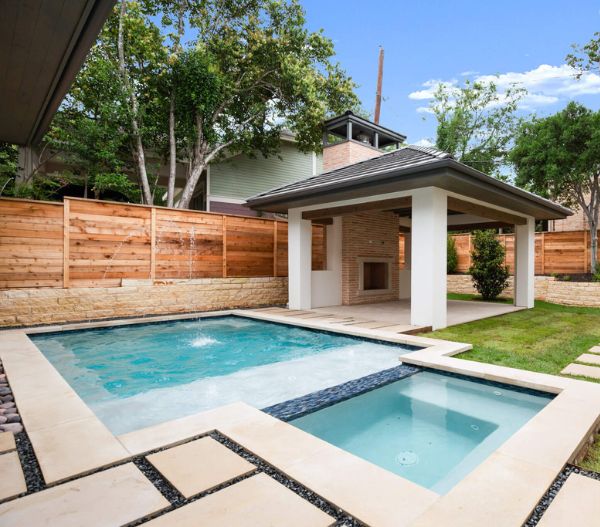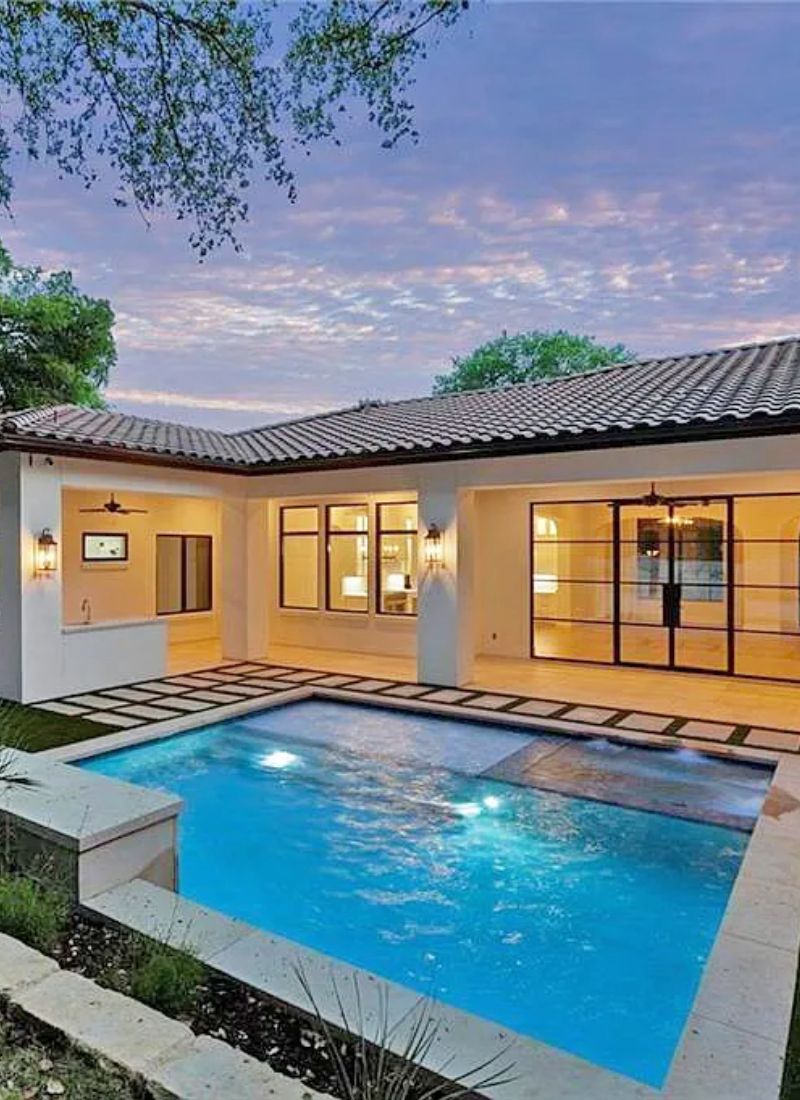 We have two engineers on staff including one of our Owners and employ detail processes and quality standards in designing and construction of each of our pool.
We spend our time upfront on detail designing and planning to avoid downstream issues. These include the drafting of detail engineering and construction drawing for each pool.
We can tackle the hard projects including challenging terrain and elevations, pools and patios that are all above ground, as well as yards with limited space.
We use detailed gant charts to schedule in all steps of our permitting and construction process.
We pour our pool shell 10 to 12 inches thick and only we use high quality gunite so our pools last a lifetime and will sustain the shifting and settling mother nature inevitably brings.
We only use high quality materials for your plaster, decking, coping, tile, pergolas etc.
Your pool equipment is the best in the business and installed by our trained construction crew and electricians.
We kick this off with the permitting and HOA approval process which can take from one week to up to 8 weeks depending on the jurisdiction.
Our permitting specialist has worked extensively with Austin, West Lake, and surrounding cities and know where to go to for expedited approvals.
We take the time to keep up with all City and County building codes that pertain to our business and hold requisite training for our team. We have good working relationships with most inspectors which is critical to pass the numerous required to build your pool.
We have solid long-term relationship with key subcontractors including gunite and plaster, which have been subject to numerous delays because of the overwhelming demand in Central Texas for all construction related crafts and materials.
While other builders have experienced significant delays, we have been able to get these key suppliers to give us priority.
We also have back up suppliers lined up to augment any shortfalls.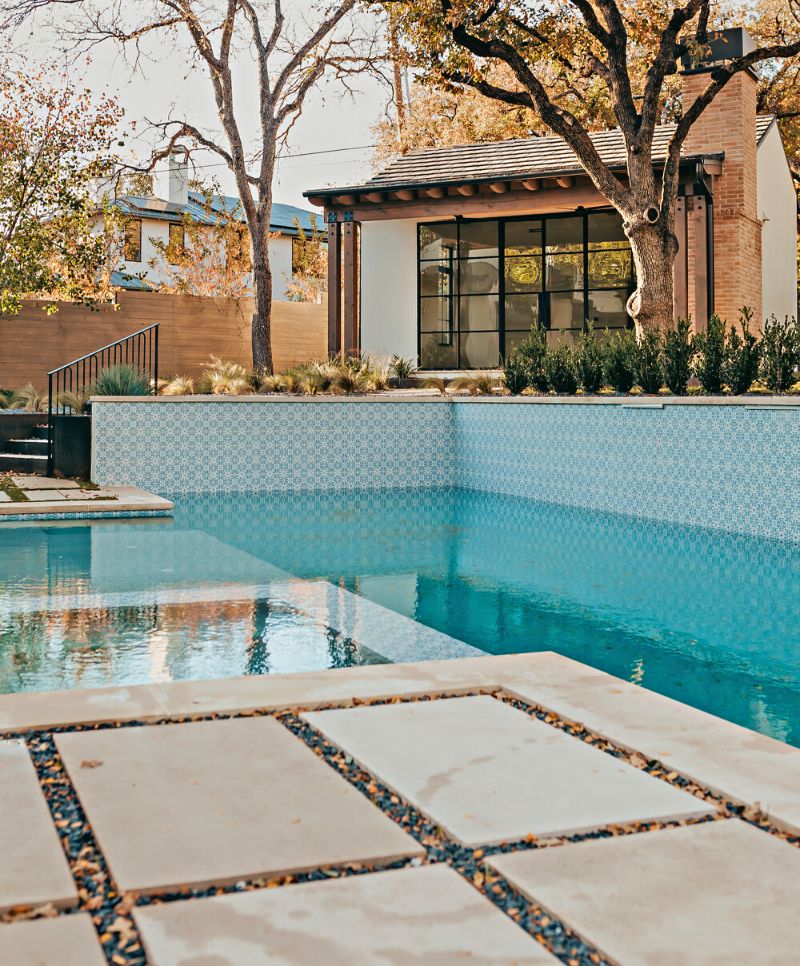 Our Communication
Our commitment to you is to communicate our construction plan and schedule from day one and keep you updated every step of the way as we progress. You should expect to hear from us at a minimum of weekly. During permitting we will let you know how your request is coming along. During construction you will be hearing from us both in person and electronically giving the dates we will be performing our build and specifically what we are accomplishing.
We copy all our owners, our key operating and project managers and our scheduler on this communication, so when you have a question or concern someone can reply to you quickly and accurately.
Our Transparency
Our goal is to make this as easy and painless an experience as possible, that said we want to level set your expectations. The process can be messy, while we aim to be as diligent to minimize disruption to your yard and fencing some level cannot be avoided. Rest assured we not only strive to have a clean job site but will leave you with a great looking pool and patio.
When we give you our construction timetable we will work hard to meet or exceed it; however, delay can and will creep in primarily due to weather, supply or labor shortages or third-party inspection scheduling. While we cannot control the rain and or freezes, we work hard to mitigate supply, labor and inspection delays. If we have an issue, we will let you know so we limit surprises at least the bad kind!
Our Team
We have 3 Owners all who work full time in the business and who have worked together nearly 10 years as well as being good friends. We are very invested in our business and bring a technical and professional background to bear on our processes and delivery of service.
We are supported by a staff and crew with many years of industry experience both with us and other builders. We work hard every day to continue to earn the trust of our clients.
We are not finished until you are 100% satisfied. We warranty our work and stand behind that warranty.
Ready to bring your backyard dreams to life?
Call our professional pool builders and outdoor living experts at (737) 990-9077 or click below for a FREE custom quote!
"We had an excellent experience with the entire Westbank Pools team. Even when we had a fairly big rain setback, they took it in stride, waiting for the ground to stabilize and pumping out the excess water to get our project back on schedule. We've given their contact info to anyone we know that's been looking to build a pool. We would definitely use them again and would highly recommend to anyone looking to build a pool in the greater Austin area."
"Westbank employees are kind, and most of all, responsive. I could count on them to answer me anytime of day. They installed very high end equipment by default and also assisted us with design. We have a very sloped yard, and with their guidance, we found the right spot for it and had drainage installed as well. I would use them again in a heartbeat!"
"Armando and West Bank are excellent - they built our home's pool in tarrytown and have continued for the last 2 years supporting us through the winter storm of 2020, the early learnings of a pool, and maintaining the electronics and machinery."